Benefit from our extensive centre network and experience in secure multi-modal exam delivery. 
On-the-ground support and expertise

We have more than 25,000 experienced exam staff, including invigilators and supervisors, across the world.

Extensive exam delivery network

We can run your in-centre exams in over 100 countries and also offer multilingual online proctoring services in multiple time zones.

Local teams and tailor-made solutions

Our exam staff on the ground can help you understand local markets and contexts and develop solutions to meet your organisation's unique needs.
We offer high-stakes, session-based and scheduled on-demand exams.
We deliver approximately 4.5 million assessments every year for UK and international awarding organisations and education institutions across professional, university, English language and school examinations.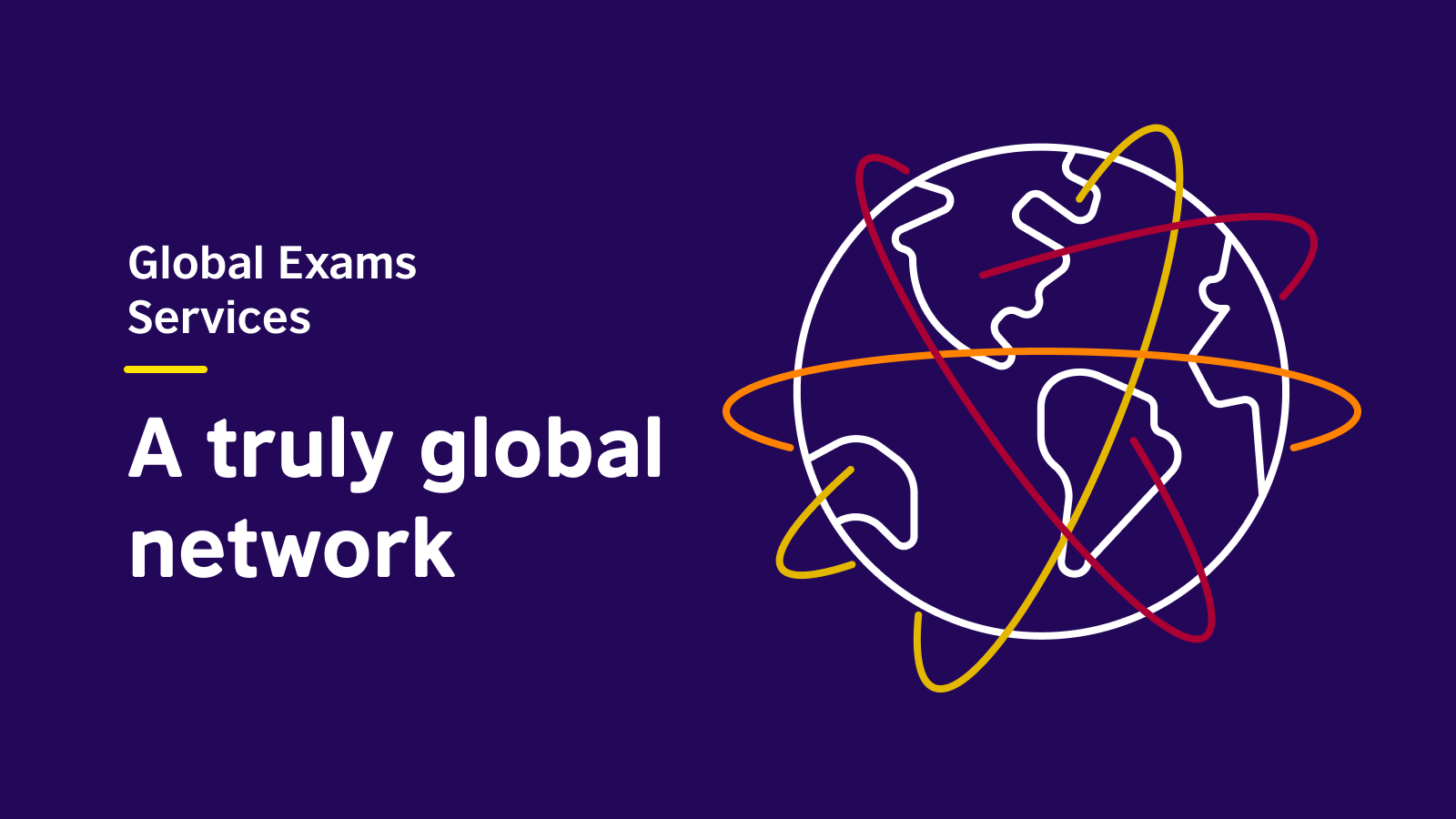 Where we deliver your exams
| Region | Countries |
| --- | --- |
| Americas | Antigua & Barbuda, Barbados, Canada, Cayman Islands, Grenada, Guyana, Jamaica, St. Lucia, St. Vincent & Grenadines, Trinidad & Tobago |
| Asia-Pacific | Australia, Cambodia, China, Hong Kong, Indonesia, Macau, Malaysia, Myanmar, New Zealand, Singapore, Vietnam |
| Europe | Albania, Armenia, Austria, Azerbaijan, Croatia, Cyprus, Czechia, France, Georgia, Germany, Gibraltar, Greece, Hungary, Ireland, Kazakhstan, Luxembourg, Moldova, Mongolia, Netherlands, North Macedonia, Poland, Romania, Serbia, Slovakia, Switzerland, Turkey, United Kingdom, Uzbekistan |
| Middle East and Africa | Bahrain, Botswana, Brunei, Cameroon, Egypt, Eswatini, Ethiopia, Gambia, Ghana, Jordan, Kenya, Kuwait, Lebanon, Lesotho, Malawi, Mauritius, Mozambique, Namibia, Nigeria, Oman, Qatar, Rwanda, Saudi Arabia, Sierra Leone, South Africa, Sudan, Tanzania, Uganda, United Arab Emirates, Zambia, Zimbabwe |
| South Asia | Bangladesh, India, Maldives, Nepal, Pakistan, Seychelles |
Trust us to help you grow
Qualifications are an important step in unlocking students' potential – and new business opportunities.
Whether your organisation wishes to expand qualifications to a new city or country, or unlock opportunities on entirely new continents, our on-the-ground staff will help you understand the essential local context.
Our experienced team can provide you with detailed guidance and information on:
Local government policies and regulations in the education and assessment fields
Insights into the aspirations and preferences of the local population
Awareness of local competitors and professional institutions
Introductions to potential local partners in education and training
Opportunities to participate in local British Council activities such as seminars, exhibitions and events
Online proctoring
Through our network of multilingual online proctoring services, we can cover multiple time zones across the globe – giving candidates flexibility and choice.
Find out about online proctoring.
Test centre delivery
We have an extensive exam delivery network for high-stakes, session-based and scheduled on-demand exams.
Assessment delivery services
Chat to us
Book a free consultation with our assessment solutions team.